Mendeecees Harris is a real estate developer turned reality TV star. Mendeecees Harris started his career as a real estate developer, and now he finds himself very busy building his empire in the music industry.
Mendeecees has suffered a lot because of his evil deeds and also been imprisoned many times for being involved in drugs with his brother. He now wants to turn his dark side around by staying clean and also set himself as the best example for his son by covering all his past mistakes.
Jailed Many Times! Wants To Right His Wrongs Since Having Children!
Nobody is perfect, that's for sure. Even a successful music producer, reality TV star and real estate developer of Mendeecees Harris caliber might have a dark side that surprises most of his fans. In 2013, he was accused of sexually harassing an underage girl in New Jersey, but after a few months he got clean cheat and was cleared of all the charges.
Discover Me: Grant Crapp Wiki: Age, Relationship, Net Worth, Job
His evil side didn't just end there. He also got accused and arrested of trafficking $2.5 million worth of heroin and cocaine, which also involves his brother. He is currently serving eight years of the prison term, which was sentenced on 1 December 2015. The authorities said that he shipped the vast bulk of cocaine and heroin from downstate New York to the Rochester region.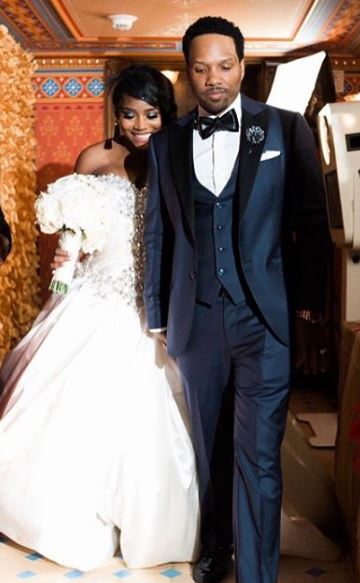 Mendeecees says he doesn't have enough words to express his love, shared on 26 May 2017 (Photo: Instagram)
It was a rough time for him as well as his wife, Yandy Smith, to whom he married on 25 May 2015. However, they are yet to make their wedding legal, his "wife" confirmed that there are no evidence to prove their nuptials in paper.
The couple also has four kids, among which his younger children were aged ten months and two years back then. Ever since having kids Mendeecees has promised everyone around him to fix all the problems and he has also been trying to Right His Wrongs. However, his petition to cut short his stay behind bars was rejected in February 2018 and looks set to complete his full sentence.
What Is Mendeecees's Net Worth?
Mendeecees Harris summons his net worth by working as a real estate developer and also as a music producer. His net worth is estimated to be around $400 Thousand. His net worth saw a stiff decline when he agreed to pay $2.5 million on drug charges. However, he stills enjoys the fortune of his wife, Yandy, who has the $15 million worth of wealth.
Don't Miss: Mountain Men Star Tom Oar Wiki, Age, Wife, Family, Net Worth
During the younger age, Mendeecees involved himself in St. Nicholas housing projects where his hard work was appreciated, and the entrepreneurial side was more enhanced. He then started working in the real estate business but later on shifted to the music industry and started working as a manager and also a rapper. He achieved success and fame in both areas.
Currently, he produces music with many beat-creating artists. He also made an appearance in the VH1 reality TV show Love & Hip Hop: New York. He appeared in the show three different seasons, which also televised his wedding and his journey to prison.
Short Bio
Mendeecees Harris was born on 26 October 1978. That makes his age 40 in 2018. He was born in Harlem, New York. He holds American nationality and stands tall at the height of 1.70 m (5 feet and 7 inches).
You Might Also Like: Masika Kalysha Wiki, Daughter, Husband, Parents, Ethnicity, Net Worth
His is the son of Roberto and Judy Harris. He also has a brother named Tyrus Harris who was also accused of being involved in drug trafficking along with Mendeecees (as per wiki).
creadit by: wikinetworth.com